Yuendumu Workshop
Animating Jukurrpa
Client: PAW Media and Communications
Workshops Dates:  February and June  2010
Where:   PAW Media and Communications, Yuendumu, Northern Territory
Role:   Animation trainer in Flash, After Effects and iStopMotion. The work in June also involved work as a PAW media worker.
About PAW Media and Communications
Last year in February and June I worked for PAW Media in Yuendumu, NT. In the role as a media worker I did some After Effects work on Willowra Wardilyka animation. I also did some captioning on a couple of other animations in the Animating Jukurrpa project working along side Adrian 'Simba' Jupurrurla Nelson.
Where is Yuendumu?
See this map.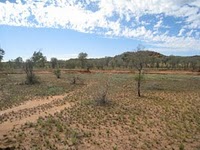 Languages spoken in Yuendumu: The two main languages spoken are Anmatyerre and Warlpiri. There are also a number of people from the Pintupi language group living in Yuendumu.
PAW Media stands for Pintupi, Anmatyerre and Warlpiri Media.
The project
Jason Japaljarri Woods was another PAW media worker I had the privilege to work with. We worked on Flash animation skills and techniques, plus some PhotoShop work and also stopmotion (sand and paper cutout). I gave him some support on the projects he'd composited in After Effects (+ I was given some support in After Effects by PAW's David Slovo!).
The animation: "Wangarla jukurrpa"
Story by Neville "Cobra" Japangardi Poulson
Created and Animated by Jason Japaljarri Woods
Jason recently completed his final animation in the Animating Jukurrpa collection (titled Wangarla jukurrpa). It is wonderful. His animation skills are impressive. His drawings come to life through patience, careful observation and analysis (a true animator). Below is a still from the animation:
Jason, David and myself went out and recorded Neville "Cobra" Japangardi Poulson telling the Wangarla jukurrpa. Jason then went to work on designing the animation. Painting backgrounds and props, scanning and PhotoShopping these elements, and practicing drawing crows – then animating them in Flash. I was only there for four weeks so I have only just seen the final animation. It is beautiful and well worth a look, and while you're there have a look at the other Jukurrpa story animations.
You can see the completed Wangarla jukurrpa animation here.
Thanks to Susan, Trevor, Simba, Simon, Jason, David, Gabrielle, and everybody at PAW Media for this opportunity.